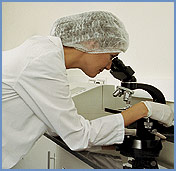 Research and development is one of the core functions at Ceramin. We have one of the largest state-of-the-art R&D facilities in the industry, at Ras Al Khaimah, UAE. Our R&D experts are continually evolving new compositions that deliver real cost advantages to our clients.
We are constantly striving to economise the overall ceramic body by reducing the material costs while improving the strength and character of the end product. We test the complete workability of our mineral compositions before we recommend them. This means you get to see and test the manufactured product before any commitment is made.
World-class R&D facility in Ras Al Khaimah, UAE

Leading team of researchers, chemists and geologists.


Environment

Ceramin cares for environment and has developed standard mining plan and follows global regulation to protect the environment in all the mining area. We have developed self assessment system which covers human safety and Environmental Management.