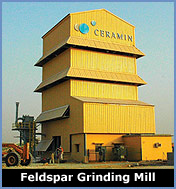 Ceramin owns sodium and potassium feldspar processing plants in Thailand, UAE and India. Ceramin processes high quality Kaolin and Ball Clay in Belitung Island and Kalimantan Island, Indonesia, respectively. In addition, the company has commenced a state of the art Grinding plant of Zirconium Silicate (Opacifier Grade) in January 2009 at Ras Al Khaimah UAE to meet regional demand. The plant produces 14000 Mt/Year of ZIRCOMIN brand and it is first of its kind in the Middle East.The brand 'ZIRCOMIN' is well established in Middle East ceramic industry.
A committed and experienced team works tirelessly to achieve the highest quality standards in the end products. Each consignment of minerals and composites goes through several quality check stages before it's delivered to your doorstep.
Ceramin Owns Crushing and grinding plants in different location to process Feldspar for use in Ceramic, sanitary-ware and glass Industry.This processed kaolin from Indonesia goes to prominent Japanese paper manufactures.